The LCP Handclasp Program for children with disabilities of all types has grown to be one of the largest of our programs. Over 100 children and their families avail services for therapies, medications, and educational needs. Many great things have been happening in this program throughout the end of 2020 and the beginning of 2021.
In 2019, the Handclasp Therapy Center moved from an outdoor facility into an LCP building. Since then, the staff have been making the most of their new, indoor center. During the pandemic, with less children coming for therapies, we were able to completely revamp and redesign the Therapy Center so that it will be more practical and more children can be served for therapy! We also added Occupational Therapy services as well as Language Development services.
Physical Therapy helps these children with their gross motor skills like balancing, standing, and walking. Many children who were once bedridden are now able to walk, thanks to these services! Occupational Therapy, however, helps with fine motor skills and everyday activities like writing or tasks like using a fork to eat. These therapies work together to be able to give a child their best chance at functioning independently.
Language Development services are for children with delays in their speaking or language development. A speech language pathologist and a special education teacher work together to help these children develop the language skills they need to one day be incorporated into a regular classroom. We developed the Language Focus Classroom for this reason. We are looking forward to the progress of these children!
Since many children and their families are limited from going out due to the social distancing restrictions, we have distributed 20 stander  assistive devices for the kids to be able to use in the home. These devices help a child with low muscle strength in their core and legs to be held in a standing position to be able to build strength, increase circulation, and allow for better interaction with their peers.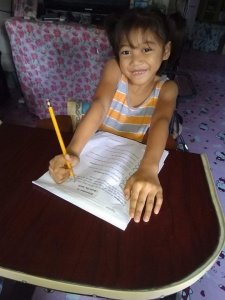 Angel and Terrance are two kids who were able to receive a  stander just last month. Both of them are enrolled in school doing modular learning from home during the pandemic. They are now able to use their stander while they work on their homework! Many other children benefit just from being able to be in a standing position for a little while during the day rather than just sitting or lying down. Overall, these devices are a huge help in providing a better quality of life for these children.
We are also blessed to also be able to serve the parents of the children in this program. Recently, some of the mothers in the Handclasp program have been trained in rug making. Rug making is a marketable skill that they can use to help supplement their family income. The rugs are made from old t-shirt material that is cut into strips then weaved through a specially made rack. LCP has helped these mothers make a connection with a local store that will buy their rugs for resale  every month, which will guarantee their income!
We are so fortunate to have these children and their families in our program. God has truly blessed the growth of the Handclasp Program and has provided for a great deal of growth throughout 2020. We look forward with anticipation of what good things will continue to come in 2021!