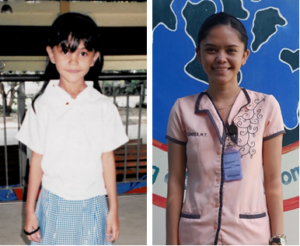 Born with a congenital heart defect and plagued by severe financial   hardships, Maria Rosal wondered if she would ever have a chance in life. She was a bright young woman, full of resilience; all she needed was an opportunity to live. Without surgery, her future would be grim.
Without a father in the picture, she and her mother joined LCP when she was young after exhausting all other options to receive treatment. LCP was an answered prayer. The Health Program identified a sponsor to cover the cost of her operation in Thailand. She made a full recovery and was granted sponsorship and educational support all the way through high school. She grew into a smart, active young woman, unincumbered by the condition that once could have claimed her life.
After finishing senior high, she qualified for an LCP College Scholarship. She grabbed the opportunity and did not look back. She is a strong woman, determined to overcome the setbacks and challenges she has in her life. She succeeded academically and at LCP, and she joined the choir and dance teams. She became a confident leader with a strong faith in God. Maria Rosal proceeded to college, studying Education. This June, she graduated with her BS in Early Childhood Education. She has a heart for teaching children and looks forward to a future of shaping young lives.
All this would not be possible without medical care and opportunities for education through sponsorship. There are many children like Maria Rosal in need of a helping hand. Please consider how you can contribute to these live-changing programs.