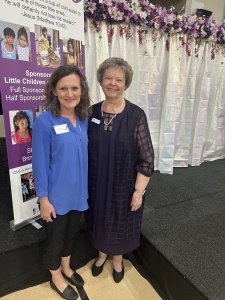 Glenna Waller, LCW President and CEO since 2009, announced her plans to retire earlier this year. She followed in the footsteps of the founders and has boldly led LCW into the 2020s. Prior to her service as president, she served as a board member as well as the treasurer. LCW would not be where it is today without her dedicated leadership. Glenna has traveled to LCP over 50 times and has personally supported over 15 sponsored children and scholars. She has given sacrificially of her time and money to serve this organization during her employment. Words could never fully express all she has done for LCW. At 76 years old, she felt the Lord calling her to make the difficult decision to step down at the end of this year to make way for new leadership and ensure a future for LCW.
In April 2022, the LCW Board of Directors established a search committee with the goal of finding Glenna's successor. With much prayer and deliberation, the committee began the hunt for a corporate search firm to help with the hiring process to fill Glenna's impossibly large shoes. As they began the search process, God's plan began to unfold and an individual with a long history with LCW came forward with interest in the position.
The search committee paused their efforts with the corporate search firm and conducted interviews for this surprise candidate. In August 2022, Susan Crawford was unanimously confirmed as the President Elect who will take over for Glenna after her retirement at the end of this year.
Susan served as a Journeyman Missionary in Japan with the Southern Baptist Convention. During her time in Japan, she made a trip to Dumaguete City, Philippines, where she worked in the Habitat for Humanity Community alongside LCP. She learned that LCP's US base was just a few minutes away from her hometown in Georgia. She became an LCW supporter and then an Advisory Council Member in 1991. She worked alongside all the LCW Founders and knew them personally, and she shares their passion and inspiration behind creating LCW and spreading it throughout the world.
In her early career, Susan worked in various business capacities. She has a BA in Speech Communication from the University of Georgia and an MBA in International Business from Georgia State University. Susan has always had a passion for children and has worked as an educator for most of her career. She transitioned to teaching in 2007, and she earned Ed. S in Instructional Technology with School Library Media from the University of West Georgia that she uses in her current position as a Media Specialist at an elementary school.
We are thrilled to welcome Susan into this new capacity with LCW. We are so pleased to bring another member of the family into the president's chair. Susan was being prepared for this assignment from the beginning, even before we knew Glenna would be retiring. We are thankful that she stepped up and answered the call and will lead us into LCW's next chapter.
Susan will officially start in December 2022. Glenna will be working with Susan after her official retirement to ensure she is fully trained and prepared to take over. Glenna will also continue working for LCW on a part-time basis. We are thrilled to officially share this announcement with you and look forward to what 2023 holds!