Presbyterian Church in Sudbury Massachusetts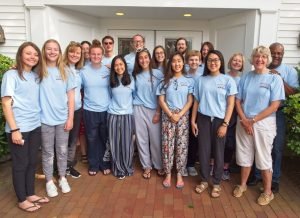 Presbyterian Church in Sudbury Massachusetts (PCIS) has been a faithful supporter of Little Children of the World since 1989. This church has been responsible for supporting the Preschool Program budget since its inception, and a member from PCIS always serves as a representative on the LCW Advisory Council. Their church has previously led 2 volunteer trips to LCP (2008 & 2015). July 13-23, 2018, a group of 19 youth, church leaders, and other members came, once again, to serve the LCP communities. They divided into four teams to focus on building comfort rooms (CR – bathroom), community health education, preschool classes, and more!
Given the church's longstanding support of the preschool program, the group from PCIS organized wonderful activities for each of the seven preschool centers. They read books, sang songs, and did crafts with all 136 preschool students in our centers. The children loved the activities and the preschool centers greatly benefitted from the supplies given.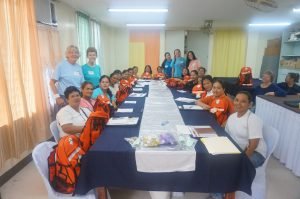 Sally Millar, the PCIS group leader and LCW advisory council member, along with Jane Dossett, both nurses by profession led the health team. All 14 communities received health education covering stroke, COPD, personal hygiene, and importance of healthy diet and lifestyle. In addition to community health education, the PCIS team created and  fully funded 15 paramedic medical bags, completely stocked with supplies for the paramedics as well as the nurse and handclasp program. They led trainings on the equipment and taught additional paramedic health classes.
The main project for the PCIS group was to build CRs. PCIS raised funds to build a comfort room for 17 families who previously had no place to do their business other than outside, in the open. The teams were able to completely build 12 CRs using Filipino style carpentry! The additional 5 were completed by a Filipino carpenter. 17 families now have a bathroom, a commodity we all too often take for granted.
The volunteers from Sudbury also served in both LCP soup kitchens, visited homes, painted in the Peace Shelter, organized a special night for all the LCP shelter children, a sports day for the LCP youth and college students, and daily devotions with the LCP staff. They were even able to take in some of the tourist sites near Dumaguete, like Pulangbato Falls and  Tierra Alta!
The Sudbury team worked incredibly hard to make a difference during their time at LCP, but the church as a whole spent the better part of a year fundraising and preparing, in addition to their already generous support, to make this trip a reality. The PCIS church family is responsible for 56 sponsored children and college students, 48 of whom attended a meet and greet with the team in addition to 4 college graduates who came back to give their appreciation.
Thank you, Presbyterian Church in Sudbury, for all you did on this trip, and for your continued support though sponsorship, college scholarship, and fundraising the Preschool Program
https://littlechildren.org/wp-content/uploads/image1-5-e1547626045995.jpeg
162
216
Britt
https://littlechildren.org/wp-content/uploads/Front-Page-Logo-SM4.png
Britt
2018-08-29 05:04:25
2018-08-28 23:08:54
Presbyterian Church in Sudbury Massachusetts