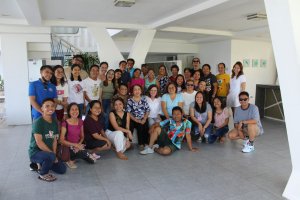 Little Children of the World and Little Children of the Philippines could not function without our wonderful donors and sponsors like you! We are forever grateful for every donation that is entrusted to us to be used for the benefit of children in need.
However, there is another group of individuals who make our work possible and make your contributions worthwhile: The LCP Staff. These men and women give sacrificially of their time and go well above the call of duty day in and day out. They are always willing to help, and they are always vital to the mission of LCW. They are our hands, feet, eyes, and ears on the ground who make this ministry possible.
LCP has over 60 staff members including program heads and support staff for all of the HELPS programs, administrators, finance department, property custodians, physical therapists, social workers, teachers, pastors, houseparents, and so many more! Despite our small stateside operation, our international workforce and number of beneficiaries continues to grow, and more people are able to receive help and hope! Without the LCP staff and their incredible work, we would not be able to accomplish the mission set forth by the founders.
They work overtime hours, on the weekends, late into the evenings, and early in the mornings to be able to help children in need. LCP is a 24/7 operation with thousands of beneficiaries, all with unique needs and situations. The staff selflessly meets people where they are to be able to provide the services they need.
Many of the staff members are 'home-grown.' They graduated from our programs and chose to come back to work at LCP after completing their education. Others are new who have just joined our team this year and are already doing a great job. A few have been with LCP for over 25 years and continue to be the backbone of the operation there.
All LCP staff are Filipino and are local to the LCP area. They are able to understand the people and implement services in a way that best fits the culture and the needs of the people. They are also part of the caring community because the people they are facilitating assistance for are also their friends and neighbors.
We are so thankful for our staff and for all they do for LCP and for its members!