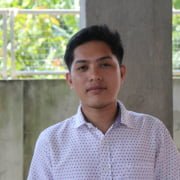 The main goal of LCP is to create caring, Christian communities. This goal is accomplished through every aspect of the HELPS model, not just the Peace & Faith Program. Andy (shown below) is a wonderful example of how LCP is preparing individuals to continue creating caring, Christian communities throughout their lives.
Andy spent nearly 5 years in Consuelo Home for Boys. There, he was given a safe and loving place to stay where he was able to get an education and be nurtured with the Word of God. Nightly Bible studies, weekly worship, youth Bible camps, and an emphasis on one's personal walk with the Lord helped Andy develop his personal calling.
Andy was sponsored, and he graduated high school and went on to study in college at NORSU, but he felt the Lord had another plan. After a few years of studying forestry under an LCP scholarship, he decided to change his focus to ministry. With a few years of college experience under his belt, he has more opportunity to get a well-paying job.
Currently, Andy is studying in the School of the Disciple and Pastoral Training through Blessed Hope Christian Community Church International. He leads a small church plant in his community and is hoping to continue to spread God's word and grow the church. He is a wonderful example of how LCP is making disciples and    bearing fruit.
We pray for Andy as he leads the church plant. May God give him wisdom and endurance to keep doing His work for the Lord in Dumaguete City and beyond.
Only eternity will tell how many lives were changed because people like you gave and supported LCP in making disciples for this generation and beyond.