PEACE AND FAITH IN JESUS is the main goal of LCW/LCP. With Christ at the center, we look to make Jesus' name known in the Philippines and beyond. Every single program, from Health to Sponsorship to Livelihood and more, follows suit from the Christian aspect of the program. We cannot only meet the physical needs of those in need. While that is a good and noble task, we must also meet the spiritual needs of those with whom we come into contact.
To give you a snapshot of the breadth of the Peace and Faith program, one can simply look to Sunday morning worship, where up to 2000 people gather to hear the Word of God and sit for Sunday school class under the mango trees. Also, each family is given a Bible in Bisaya, and once a youth becomes a scholar they receive an  English Bible. That in and of itself is a huge task, but there's so much more! There are weekly Bible studies in each of 14 communities to nurture the spiritual health of the  parents in our programs as well as periodic activities for adults like marriage enrichment, conflict management, men's Bible study, choir, and more, all from a Christian perspective.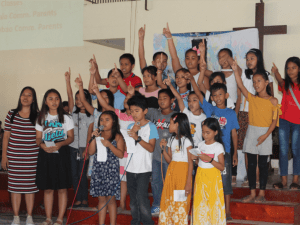 The youth really ramp up the activities. The students lead regular evangelism outreaches to the communities, have a praise and worship band, choir, weekly Bible studies, praise dance team, worship nights, yearly youth Venture, a Christian summer camp, and more. Many of our youth lead children's church and Sunday school for younger aged children.
The children also have designated activities like Vacation Church School in the summer, weekly children's church, and Sunday school by age level.
These are the programs overseen by the Peace and Faith Program. However, they have their hand in every program. The soup kitchens provide Christian enrichment and meals. The children pray before they eat as well as learn Scriptures. Our preschool curriculum is Christian based with Scripture and Bible stories being an integral part of their teachings. Children in the dorms have nightly Bible studies, and the Peace and Faith coordinators train the house parents to facilitate. They also have regular Bible studies with the house parents to ensure their spiritual health is being nurtured.
The Great Commission in Matthew 28:19-20 says, "Therefore go and make disciples of all nations, baptizing them in the name of the Father and of the Son and of the Holy Spirit, and teaching them to obey everything I have commanded you. And surely I am with you always, to the very end of the age." These Scriptures are our calling.
Every program begins with Peace and Faith in Jesus as the foundation. The Peace and Faith Program is in need of funding. Please consider making a donation to share the love of Jesus. If we fail to nourish our beneficiaries spiritual health, we have failed as a ministry. Please give today, because there is still more to be done.