In this unprecedented time, many lives have changed. Many questions surround this time of uncertainty, and many people are left without work wondering when or if they will be able to return to making an income for their family and to be able to know where their next meal will come from. And the poor, such as LCP's clients, are the most affected    individuals in this global crisis. However, in spite of uncertainty, sponsorship has been their lifeline.
Analiza is a 36-year old mother of two amazing boys. Before the pandemic, her  husband worked as a security guard, but his wages were not enough to fully support all their needs. Life was really difficult for them especially since she has a heart disease condition and is struggling with high blood pressure, and her youngest child is asthmatic. Fortunately, one of her children, Saimon, was blessed to become sponsored in 2019.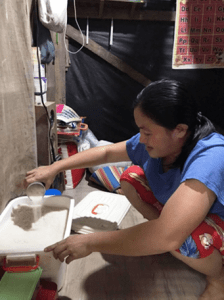 When the pandemic started, her husband was stranded in another city, and his work was stopped. Her children's classes were suspended. Analiza had to do extra work selling ornamental plants to provide for her family. She could never imagine what the situation would be without the monthly support they receive from their sponsor. Their sponsorship greatly helped them to survive every day during the toughest times. They are thankful to have their basic needs met, knowing they would have nothing if not for sponsorship.
Saimon is making good grades in school despite the challenge of modular learning. Sponsorship allows Analiza enough money for transportation to go pick up and return the modules for her children. Also, thanks to the generosity of their sponsor, they also receive monthly food packages as well as assistance with medications. Sponsorship is carrying Analiza and her family through the toughest of times, but their story is not unique. Sponsorship has been the lifeline for so many families throughout this pandemic. In normal circumstances, sponsorship is vital assistance, and during this global pandemic, sponsorship has quite literally saved lives.