"During the toughest times, my child would ask what will be our meal for the day, I always end up looking at the ceiling, with my mind and stomach empty, yet answering to my child that God will provide. "
-Rhea Zamora, LCP Beneficiary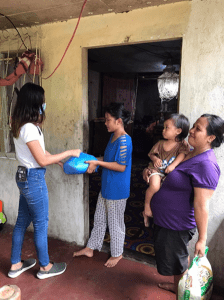 "As a single parent of four children and a daughter to my loving mother, it is my responsibility and privilege to serve as an anchor to my family and to provide for them. Daily living is a challenge for us to survive life, especially when we've experienced two life changing tragedies last year: My beloved husband passed away, and we are dealing with this never-ending pandemic. As I go to sleep, the thought of what to eat tomorrow or simply how to survive tomorrow always lingers in my mind. I talked to God and asked for His help because He is the only one that I can hold on to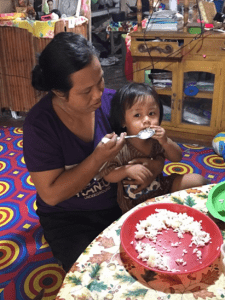 Being part of LCP, especially during this tough time gives us hope and strength for a better tomorrow. Every first week of the month gives us motivation and assurance that we can cater to our hunger through the pack of hope that LCP sponsors provide for their families. I'm overjoyed to see the smiling faces of my children and my mother as they devour the goods from the food package that we consider as "pack of hope". Most of the goods I cannot afford to provide since I only earn a small amount of income.
Before being part of LCP, my children were underweight, but now, they are healthy and  active. My family and I are very much grateful to LCPFI as they bring hope and light to every family they are serving. I cannot imagine life without LCP because it serves as my encouragement to continue life. My family and I are very much thankful to LCPFI and to our beloved sponsor. I pray that they will prosper and May God bless them always. You're always part of every success in our lives. Thank you for instilling hope in our hearts and minds."
Food packages have been a vital source of assistance to sponsored families throughout this pandemic. Thank you to all who have given sacrificially to be sure your sponsored children and their family members have food to put on the table. These food packs of hope really have made a difference and provided nourishment during a very difficult time. If you have not been able to give a food package, rest assured that your sponsorship has been an equally helpful blessing.
If you would like to give a food package to your sponsored family or to the family with the greatest needs, we have them available for $10, $15, and $20. You may give a one-time gift or set up a monthly, bi-monthly, or quarterly gift. Food packages are optional gifts in addition to normal sponsorship funding that increases the family's ability to put food on the table for every meal each month. Call our office at 770-358-2771 or go online at littlechildren.org to give a food package.
This pandemic has been especially hard for the families at LCP due to lost work and rising prices. Thank you so much for your unending support and prayers. We remain hopeful the Lord will carry us all through to where the pandemic can be a memory rather than a present struggle, especially for LCP members. You, the sponsors, have played a crucial role in providing food for these families, and we are forever grateful.