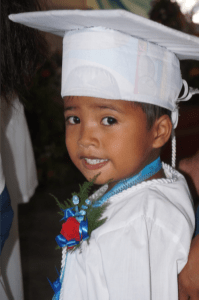 This graduation season has marked another successful completion of a school year. Every educational milestone is a massive step towards breaking the cycle of poverty. We are pleased to announce that 119 children were given educational fundamentals through our Growing Great Kids Preschool Program. 17 children from the streets were able to complete the School on Wheels program and are now able to re-enter formal schooling. Hundreds of Elementary students were awarded for their good work and diligence, and they will be advancing to their next grade level. Most notable of those are our own Wee Women Girls who are consistently top-notch students. All of the Wee Women Girls received honors in their classes. We are thrilled to know that 49 of
our students graduated from High School. 2 of these graduates came from the School on Wheels program. It is a huge success to see them reach this level in their education. High school graduates not only received their high school diploma, but also a vocational certificate which will aid them in getting a job if they are not eligible for college. All the high school graduates have taken the entrance exam to NORSU and we look forward with anticipation of positive results. 22 students graduated with College Degrees. This is the final step for students making their way through LCP's programs.
These students have completed their journey and are now equipped to break the  cycle and make a better life for their family. We are so excited to see what the future holds for these graduates. 7 are already working, 9 are applying for jobs, and 6 are studying to take the board exam for their course. With this graduating class, LCP boasts a total of 307  Alumni who have been able to finish college through our program. During LCW staff's recent visit to LCP, they were able to see 78 of the alumni come back and share their stories of success at the Alumni Banquet. LCW/LCP have so much to be thankful for, and so many success stories to celebrate! Thanks to sponsors and donors like you, so many children and youth have a chance at a better life and are able to receive their dream of an education. Without you, these milestones would not be possible!