Sponsorships Soar over 800
The Lord is faithful to provide! In October 2018, the LCW Board of Directors, Advisory Council, and Staff came together for their regular meeting. During this meeting, they established 10 goals to work toward in the next 5 years. Reach more people for Jesus, increase our donor base, etc. Among those goals: Increase number of sponsored children to 1000 in 5 years. A lofty goal, requiring at least 53 new sponsored children per year.
Not only did we meet this year's goal before the end of the 3rd quarter of 2019, but we are on schedule to meet the goal of 1000 well before 5 years is up! Every sponsored child is a life changed and an opportunity to break the cycle of poverty for generations to come and there are still more waiting for someone to be that blessing in their life!
2019 has been a huge year for sponsorships thanks to the diligence of the LCW/LCP staff. Between traveling to sharing events, exploring new areas of marketing, and increasing community engagement, all the hard work has paid off. Between January – mid September, sponsorships were up by 55, already exceeding our goal!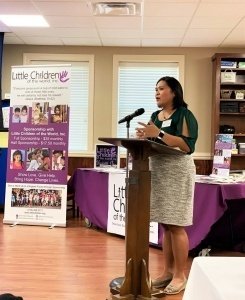 Things really picked up when CARMENIA BENOSA, LCP Executive Director visited the United States to share her story to bring awareness of the LCW/LCP mission and vision as well as advocate for non-sponsored in our program – 200+ of them! She attended and spoke at over 30 sharing events all over the South East and Midwest, including HOPE NIGHT our hugely successful annual concert / silent auction fundraiser! Her story touched lives and moved new individuals to sponsor children!
Between mid September and November there were 62 newly sponsored children, well exceeding our yearly goal. Praise the Lord! So far our total of newly sponsored children is 117! Some of these children waited up to 3 years for a sponsor, but now as the Christmas season approaches, they have been given the best gift they could think of through sponsorship. Currently, LCW/LCP boasts 813 and counting sponsored children from elementary through college. This is the highest number of sponsored children we have ever had! We cannot wait to see what the Lord will do in the coming years, and we look forward with anticipation to meeting our 1000 SPONSORED CHILDREN GOAL!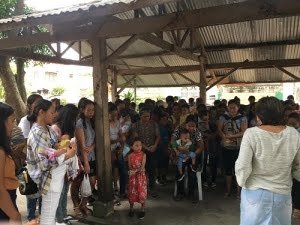 As we enter the Holiday Season, we are filled with Thanksgiving for a wonderful 2019, and we look forward with anticipation to 2020. Thank you to all who hosted LCW/LCP staff for sharing events and for promoting the cause of LCW/LCW to your friends, family and colleagues. As we move forward into the new year, please consider how you can be a helping hand through LCW/LCP. We are always in need of new sponsors and college donors. There are so many waiting. Please help us reach our goal of 1000 sponsored children. We would be honored to visit your church, civic club, or even a small gathering of your friends in your home for a sharing event anywhere in the USA. Or, gifts to URGENT NEEDS, however small or large, go to help all programs which every sponsored family can avail! Thank you again for your unending support and prayers. May you have a blessed Christmas!