Valerie and Keith Horn had the experience of a lifetime – travelling to the Philippines and meeting their former sponsored child and seeing her get married.
Valerie and Keith had never heard of LCW/LCP until Lee Betts visited their church one time to talk about LCW/LCP years ago. They were so moved they decided to sponsor a child. As their daughter prepared to go off to college at the same time, they decided to take on a sponsored child with LCW with the same birthday as their daughter. Their sponsored child's name was Ginarin.
Ginarin was a beautiful, 10-year-old girl from far into the mountain who just needed a chance to get an education and have a better life. Her father died a few years earlier leaving her mother to support Ginarin and her 3 siblings.
Valerie and Keith immediately adopted Ginarin into their family and never looked back. For them, it was more than just sponsorship, Ginarin and her family really became family to them.
They supported Ginarin all through elementary and high school until she graduated from college in 2012 with a 4-year degree from Negros Oriental State University in Bachelor of Elementary Education major in General Education. Then, they took on her sister, Rochan, until she finished a 2-year degree to continue supporting Ginarin's family. Rochan is now working in Cebu.
Currently, Ginarin works for an Elementary School as a 6th grade teacher. Her former sponsors continue to support her in her work, and even support her with equipment for her classroom. She loves her work and being able to work at the school where she was educated. Her principal and co-teachers sing her praises at her work ethic and commitment to the children.
Ginarin was engaged to her now husband, Namar for a year before they tied the knot. Of course, they invited Ginarin's beloved adoptive parents to their nuptials, keeping in mind she had never met her sponsors in person knowing it would be difficult for them to be there!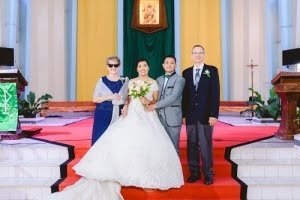 Valerie and Keith never imagined they would be able to attend Ginarin's wedding. After all, it seemed like yesterday they were first sponsoring a little girl from the mountains – was she really old enough to be getting married?! Of course, they wanted to attend, and after discussing the trip with their family, it became clear they had to come to the Philippines for this once in a lifetime experience.
They arrived August 12, and met their beloved Ginarin for the first time in person. They were able to see her home where she grew up, her school where she currently works, and LCP, the ministry that was so important in changing her life for the better. August 17, 2019 was a very special day in Ginarin's life, as well as her former sponsor's lives. Ginarin and Namar were married with their friends, family, and sponsors/adoptive parents as witnesses.
It was a beautiful experience to see sponsors be so invested in the life of their now grown sponsored child. Tears filled their eyes as they prayed for Ginarin and her new husband at the reception.
Their story is a true testament of the difference sponsorship can make, not only in the life of a sponsored child, but also in the life of the sponsor. The relationship between Ginarin and her sponsors will continue to live on even well after she has graduated from LCP and now that she is married. The world is better, today, because people like Valerie and Keith made a difference in a life like Ginarin's.
Please consider sponsoring a child to continue to break the cycle of poverty through LCW/LCP, today!