In response to the COVID-19 pandemic, masks, and hand sanitizer have become a part of everyday life. They are quite literally life savers! In the Philippines, they have strict mask and face shield requirements everywhere, so in addition to them being important for health and protection, they are necessary for our members and staff to be able to go out.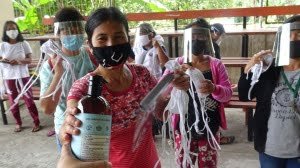 An incredibly generous donor gave 7360 reusable facemasks, 4500 face shields, and 4032 1-liter bottles of hand sanitizer! And, many more donors gave to cover the shipping costs. All these items have been shipped and distributed to our members and staff. Each family was able to receive several masks and face shields and at least 1 hand sanitizer. Our staff went above and beyond to ship and distribute these items expeditiously. Thank you so much to everyone who gave to make this possible!
Covid continues to pose a threat to our members. Although we are very grateful cases are improving throughout the Philippines, masks, face shields, and proper hand hygiene are crucial for our member's safety. Vaccines are being administered as quickly as they become available, and we are all hopeful that with vaccine numbers rising that herd immunity may be on the horizon.
Incredibly, LCW and LCP have been mostly spared from illness throughout the entirety of the Covid outbreak. Any positive cases have been mild, and there have been no deaths of any of our members. We praise the Lord for His provision through this difficult pandemic and for His protection from Covid.
Please continue to pray for the continued protection for our members and staff, so that we can continue to provide the much needed assistance. Thank you, again, to all the donors who made this possible and who have faithfully supported us during this difficult time!