A familiar, friendly voice when you call our office, a voracious advocate for children in the Philippines, and an all-around beautiful soul—these are just a few ways to describe, Marie Lou, LCW Vice President of Sponsorship. We have been blessed to have her be a valuable member of our staff for 10 years, 2011 to 2021!
However, Marie Lou's journey with LCW and LCP began well before she ever started working with us, formally. Marie Lou (right of photo) grew up in the ministry! Her sister, Marla (center of photo), was sponsored through LCW/LCP, and through her sister's sponsorship, Marie Lou was also able to go to school. The sponsorship provided for all their family's basic needs like food, all the children's educational needs, as well as much-needed medication for their diabetic father. Every aspect of their life was touched by the influence of LCW/LCP, and they were given the opportunity to pull themselves out of the grips of poverty.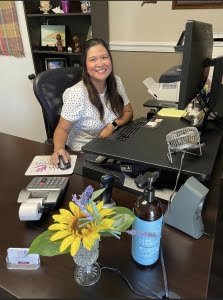 After relocating to Georgia in 2011, Marie Lou felt the Lord calling her to give back and serve with LCW, and since then, we have seen sponsorship numbers nearly double. Through her willingness and ability to share her story, thousands of lives have been changed for the better through sponsorship and access to LCW programs! Now, her story began with sponsorship, and now, continues with sponsorship, full circle.
We are so proud of Marie Lou for the person that she is and grateful for all her hard work day in and day out advocating for children and sponsorship for children in need in the Philippines. Thank you, Marie Lou, from the bottom of our hearts for 10 wonderful years of service and many more to come!