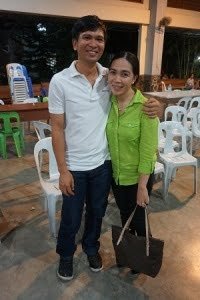 After 31 years of faithful commitment to help break the cycle of poverty through education for children and youth in the Philippines, we are time and time again seeing the cycle broken and lives changed. Our former scholars are thriving in their communities and their places of work in Dumaguete, other islands within the   Philippines, and even, abroad. We are observing how the next generation is impacted if just one child in a family stricken by poverty is given a chance.
Perhaps one of the best examples of this are former scholars, Michael Sarita and Janice Veriña Sarita. Michael graduated in 2005 with his Bachelor of  Science in Marine Engineering, and Janice also graduated in 2005 with her Bachelor of Science in Accountancy. Currently Michael works as a registered marine engineer seaman. Janice works as a CPA for the Dumaguete City Commission on Audit, and she is responsible for auditing NORSU, the college where all of our scholars currently attend.
The two married in 2011, and now have two children named Shaun Adriel and Stellina Andriette. Not only have they made wonderful lives for themselves and as a couple, they have committed much time and money to giving back to LCP. Janice was recently elected to sit on the LCP Board of Trustees to make critical decisions for the ministry, and they both faithfully give of their time and money during the holiday season to serve at the non-sponsored children's luncheon to give the children waiting for sponsorship a wonderful holiday party.
Even more than that, Michael and Janice have fully funded a scholarship for a college student every year since 2015. This more than anything else shows how this program has come full circle. Two children who became sponsored at young ages were given the opportunity for a good education, and they did not miss their opportunity. Now, they are able to give that same opportunity to other students going forward.
We are thrilled to see our graduates become so successful, and we are forever grateful that they do not forget where they came from and are very willing to give back. Janice and Michael are a shining example of LCW/LCP's success and how education can truly create multigenerational change. We look forward with excitement as our number of graduates grows, to see how their lives and, eventually, their children's lives, will be positively impacted all because of generous people like you and Janice and Michael.