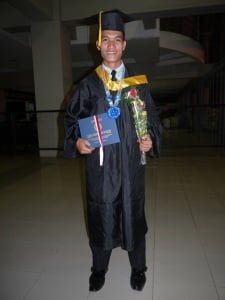 Fermel Ventula is an LCP alumni who graduated in 2012 with his Bachelor of Science Degree in Criminology. Shortly after, he passed the board exam and became a police officer for the City of Dumaguete. He later married another LCP scholar, Christine Panday (pictured below).
He came from humble means in Barangay Mangnao of Dumaguete City. His mother and father worked hard to make ends meet, but they struggled. In 2001, when Fermel was in 4th grade, his life changed when he became sponsored by Carolyn and the late John Winterroth. His hard work and dedication made his dreams come true through the help of sponsorship and scholarship.
Fermel was a diligent and hardworking student. He was always very active at LCP and made high marks in school. We always knew Fermel would be successful in life. After he graduated from NORSU and passed the board exam, he became a police officer for Dumaguete City. He has since worked his way up the ranks and is now a Police Corporal for the special operations unit for Dumaguete City. His unit is responsible for contact tracing for COVID patients when there have been positive cases in the area, but generally, search warrants and arrests for special drug related cases.
He has been on the frontline for safety of the citizens of Dumaguete for years, but even more so during this pandemic. We are so proud of the man he has become and his service to the people.