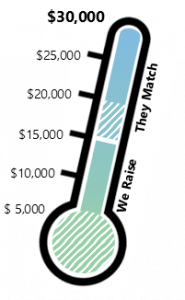 Double the Good for the Endowment Fund! The Endowment Fund ensures a successful future for Little Children of the World for many years to come. The funds can be used for sustainability of the program over the long term. The money is invested and the gains can be used for special projects, expansion, and meeting other yearly budgets.
Your gifts will be matched by a generous donor up to $15,000! But, we must raise the full $15,000 in order to receive the match! Consider a gift to the Endowment Fund, today, to help us reach our goals and invest in the  future for LCW!
So far, we have raised nearly $5000 towards our $15,000 goal. We need $10,000 by June 30, 2022.
Together, we can Double the Good, not just for today, but for many years to come. No amount is too small to make an impact, and every penny counts. We must reach our goal by June 30, 2022 in order to receive the matching fund. Please consider a gift to the Double the Good Endowment Matching Funds Campaign, today!