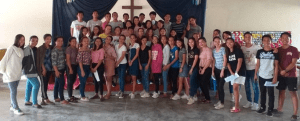 The class of 2020 is having an interesting end to their school year. Due to the COVID-19 outbreak, students are out of school all over the world and gatherings such as proms and graduations are required to be called off. March is usually graduation/recognition month for LCP students, but those events were cancelled. Despite all this, we are so proud of our graduating students and students moving up to the next level!
First, we would like to congratulate the class of 2020 for their hard work and finishing their education. Your diploma is no less significant even though your graduation may not be traditional. Your sponsors and donors are so proud of the men and women you have grown to be, and we wish you well as you begin your future entering the workforce!
Secondly, thank you to the donors and sponsors who have given to the educational programs and invested in the students. Despite having to temporarily cancel all recognition events like the College Graduates Recognition, Scholars Banquet, High School Banquet, Preschool Graduation, and the School on Wheels Recognition, we hope to still recognize all these students and graduates in May, pending all quarantine measures have been lifted and gatherings are once again permitted.
We are so proud of all the students and their achievements this school year! Thank you to all the sponsors and donors who make their education possible. Congrats class of 2020!!!