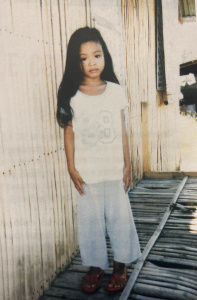 According to the United Nation's Sustainable Development Goal Report (SDG 7) on Energy, there are 4.7 million Filipinos who lack access to electricity in the Philippines. Many children who are sponsored in our program fall into this category. They read, study, and live their lives by the light of the sun and candles, flashlights, or small gas lanterns at night. A single lightbulb can make all the difference!
Aliyah is in 11th grade, and she has been sponsored since she was in preschool by Steve and Susan Penrod. Her life has truly been changed thanks to sponsors, and she hopes to pursue a degree in college in the future!
Her family, like many sponsored families, lives in a very simple home, and they survive on just a few dollars a day. Thankfully sponsorship has helped her and her family meet their basic needs and their additional special gift supplied for their family to have electricity in their home. A single lightbulb and an outlet make a huge difference in their lives. Aliyah is able to do her homework at night which has been especially helpful during Covid due to all school being at-home learning. And, they never have to worry about the dangers of using a gas lantern again.
Something so simple can make a huge impact in a child's life. Thank you to all the sponsors and donors who make a difference in lives like Aliyah and her family. Sponsorship is a hand up to a brighter future, and in this case, Aliyah's life is literally brighter with their lightbulb and electricity!