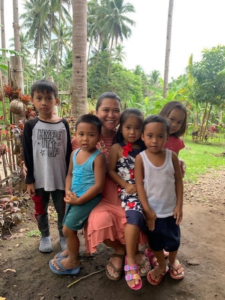 Mabuhay LCW Sponsors and College Donors,
Daghang Salamat – Thank you very much for your investment in the life of your sponsored child and college student. Because of you, lives have been changed, dreams of having an education are coming true, and the cycle of poverty is being broken. Most of all, the Name of Jesus Christ has been proclaimed to over 6,000 people we serve in the Island of Negros. We could not do what we do without you – our loving, caring and very supportive sponsors and donors.
Being one of the beneficiaries of sponsorship, my family knows the feeling of waiting for over 3 years and the Joy, Excitement, and Gratitude when we   finally have a sponsor! Your support means everything to your sponsored child and will completely change their lives. We currently have 889 sponsored children, with 147 children still on the waiting list. Many of these children have been waiting over 2 years, hoping for someone like you or your friend, to give them a helping hand for a brighter future. We also pray you will continue to give to the LCW Urgent Needs. Your gift will    greatly help the ministry and impact your sponsored child/youth.
We thank God for you daily. Thank you for being a blessing! With your partnership, we can continue what God has entrusted us to do – Show Love, Give Help, Bring Hope, and Change Lives in Jesus' Name.
With a grateful heart,
Marie Lou Patrimonio-Abbott, VP of Sponsorship