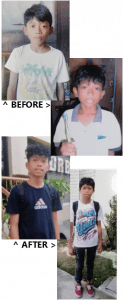 My name is Edward Calamba, I am 19 years old, and I currently live in the Independent Living Dorm for Boys. My life before LCP was so bad. My biological mother left after giving birth of me because she could not take care of me. I grew up with my other family, but our life was full of sad moments. I learned to beg in the street in order to buy food every day because we had no regular income and really had a hard time providing for me. One day my friend introduced me to LCP and invited me to come with him one Sunday.
I came to LCP one Sunday. There, I attended the Sunday service and Sunday school, and after the service I spoke to the social worker. I brought my Birth Certificate and asked to live in the residential shelter. In May of 2015, I was so happy when I started living in Robert Hanson Home for Boys because I knew that I would have a bright future there. I even received my first toothbrush there (pictured left). I learned so many things in the shelter like doing chores, obeying rules, and changing my attitude to do better. By June 2016, I moved to Consuelo Home when I turned 13 years old. I started to focus on my   studies and become a good resident in the shelter.
In 2017, I really wanted to meet my biological mother. I was so happy to meet her, but her situation was not good. She is married, but her husband was very sickly, and they could not afford his medicine. I also met my many half siblings that my mother had from other relationships. At this time, I am just so grateful I could stay in the shelter at LCP and be sponsored.
Presently, I am in 1st year college in NORSU taking up Bachelor of Science in Industrial Technology major in Mechanical Technology. I am happily living in the dormitory for boys and performing well inside the Hope Village. I have a courage and determination towards my future. I am so appreciative to LCP and LCW, for giving me the opportunity to change my life!