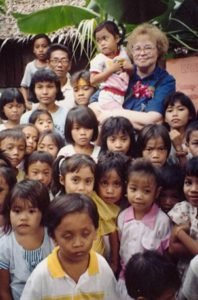 We are very sorry to inform you that one of our founders, Mrs. Frances Carroll 'Peggy' Houk, went to her heavenly home with Jesus on Saturday, May 2,2020 at the age of 95. She was laid to rest in McMinn Memory Gardens in Athens Tennessee. 
Mrs. Houk, known as Mommy Peggy at LCP, was one of the founders of Little Children of the World, Inc. and was active and supportive since 1987 until her passing. Over the years, she served as: Director/USA (1988-2000), Treasurer (1988-1999), Editor (2009-18), Board of Director Chair (20 yrs) & Administrative Assistant (2000-2009). Her greatest passion and calling in life, was to do mission work for those in need, especially the hungry.


She leaves behind a legacy of kindness, faith and love. She served her Lord well and now can spend eternity with Him. 33 years ago upon her first visit to Dumaguete she stated "My heart just went out to them and I wanted to take all of them home with me, give them a good bath, nice clothes, a nutritious meal, lots of love and a good night's sleep."
Mrs. Houk would go on to provide these fundamental necessities for thousands of children in need. She led the charge in trying to break the cycle of poverty and we bow our heads in thanks for her quiet bravery.


Her legacy will live on through her family and the work of LCW. We are so grateful for her many years of faithful, humble service. Because of her work, the world is a better place and many lives of children in the Philippines have been made better through education, provision of basic need, and a relationship with Jesus. Daghang Salamat – Thank you very much.


The family asks that in lieu of flowers, contributions be made to Little Children of the World, Inc. To view Mrs. Houk's entire obituary,
click here.