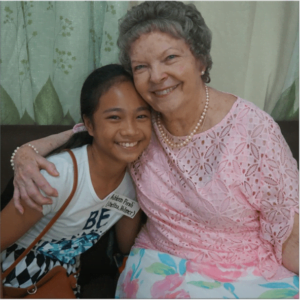 You are a blessing, and we thank God for you! After more than 50 trips to LCP and 25 years serving as an officer of LCW, I will be retiring at the end of the year. It was my joy to travel to LCP one last time in July and teach Bible study to all 14 communities, and what a blessing it was to also worship with them on Sundays. I will continue to work through the month of January to complete the 2022 audit and help with transition into 2023. After retiring, I will transition to a volunteer role as Chair of the Board, as well as a consultant to Susan, the new president.
There are no words to express how much each of you and this ministry means to me. My heart is full of gratitude for your faithful support and prayers. It has been my privilege to follow in the footsteps of the founders, my aunt and uncle, Bettie and Doug Elwood, my uncle Luther Carroll, and my parents Dean & Peggy Houk. Thousands and thousands of lives have been changed in the past 35 years. Everywhere you go in Dumaguete you see working adults who grew up in our ministry. I cannot even imagine what would have happened to all the kids if there had been no LCP. With your help we are still saving lives and helping them fulfill their dreams every day. We have 863 sponsored children! This year alone, 55 graduated from high school and 24 from college. This semester there are 143 in college. In addition, we minister through the Health Clinic, 5 Residential dorms, 2 Soup Kitchens, 7 Preschools, programs for Children with Disabilities, Livelihood and Sustainability projects, and most importantly teaching about Peace and Faith in Jesus through salvation and walking more closely with Him. In all, we minister to over 6000 people.
Can you even begin to imagine the impact LCP has on all these lives? None of this would be possible without God's mighty hand on LCW/LCP and each of you who accepts the call to pray and give to carry on this life changing work God has given us to do. My heart overflows with gratitude for your faithful support during the past 35 years! Thank you from the bottom of my heart. This year I am asking you to give your best gift to help us cover all the 2022 budgets. We desperately need your help to raise the last $100,000 needed before December 31. This would mean so much to me as I transition from LCW President to Chair of the LCW Board of Directors.
As we move into the new year, I am happy to welcome Susan Crawford as the new LCW President. She says, "I have been involved with Little Children of the World for over 30 years, and I am thrilled to soon be working full-time with the ministry! I have been blessed to know each of the founders personally and am excited to continue the work they began. Over the years, as the ministry has grown, I have learned about many churches and organizations who have faithfully supported LCW. I look forward to visiting your groups and meeting you in person. Thank you for your commitment to Little Children of the World. Many years ago, we celebrated 100 sponsored children, then 200 sponsored children, and now, hopefully soon, we will celebrate 1,000 sponsored children! We all owe Glenna a profound debt of gratitude for her faithful stewardship of this ministry. In addition to everything else on their collective plate, she and the staff are already working with me to facilitate a smooth transition. Please continue to pray for us during this time, as well as our staff, volunteers, and donors around the world. God has truly blessed LCW. He has enabled you—and me—to share in His plan for this ministry. I am thankful to have been part of LCW's past, and I am grateful to have the opportunity to be part of LCW's future."  
We could not have asked for a more well-equipped leader to step into my shoes, and I know the Lord was working all those years ago when she met with the Founders to prepare for this appointment. She has my full support, and I hope you all will join me in welcoming and supporting her as she moves into this role.
Merry Christmas and Happy New Year with my love and abundant thanks,
Glenna Houk Waller, LCW President & CEO 2009 – 2022